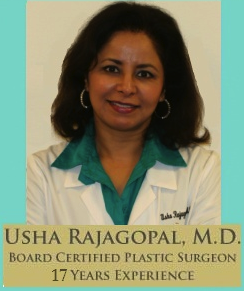 With the growing popularity of cosmetic surgery, it is now more important than ever to have the utmost confidence in your plastic surgeon. At a minimum, you should be sure to research the doctor's qualifications and be aware of "look-alike" board-certifications: only the American Society of Plastic Surgeons represents the highest degree of professional certification. Board certifications ensures that your doctors are trained in all plastic surgery procedures, operate in accredited medical facilities and adhere to s strict code of ethics.  Certifications also ensure that your surgeon has fulfilled continuing educational requirements including standards and innovations in patient safety.
Dr. Usha Rajagopal is a Bay Area certified plastic surgeon with over 20 years of experience.
For more information on listed board certifications & memberships, click on the title.
The Mission Statement of The American Board of Plastic Surgery, Inc. is to promote safe, ethical, efficacious plastic surgery to the public by maintaining high standards for the education, examination, certification and maintenance of certification of plastic surgeons as specialists and sub-specialists.
American Society of Plastic Surgeons Whether you're considering cosmetic or reconstructive plastic surgery, you want the skill of an ASPS Member Surgeon—a doctor with more than six years of surgical training and experience, with at least three years specifically in plastic surgery. Their training and experience make them uniquely qualified to perform your cosmetic or reconstructive procedure.
The American Society for Aesthetic Plastic Surgery is the leading organization of board-certified plastic surgeons specializing in cosmetic plastic surgery. ASAPS Active-Member plastic surgeons are certified by the American Board of Plastic Surgery or the Royal College of Physicians and Surgeons of Canada.
The California Society of Plastic Surgeons is an organization of practicing, board-certified plastic surgeons committed to the highest ethical standards.